Social Media has been awash with tributes to Ebony Reigns following her tragic passing in a car crash at Mankranso in the Ashanti Region on Thursday evening.
Ghanaians on social media expressed their shock at the passing of the 20-year-old, and have spoken fondly of her short career, which spawned hits like Maame Hwԑ, Kupe, Poison and Sponsor.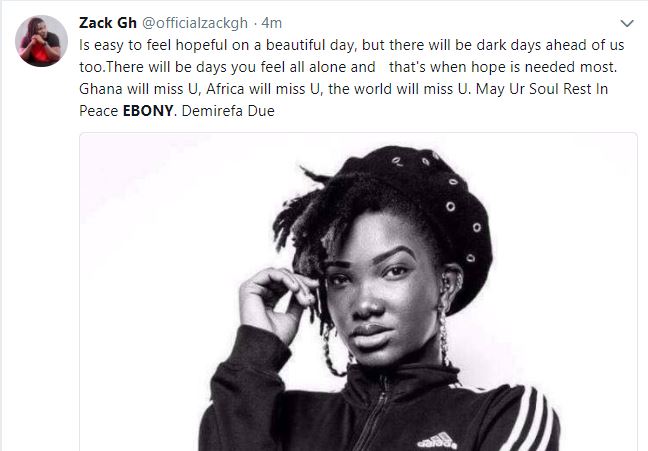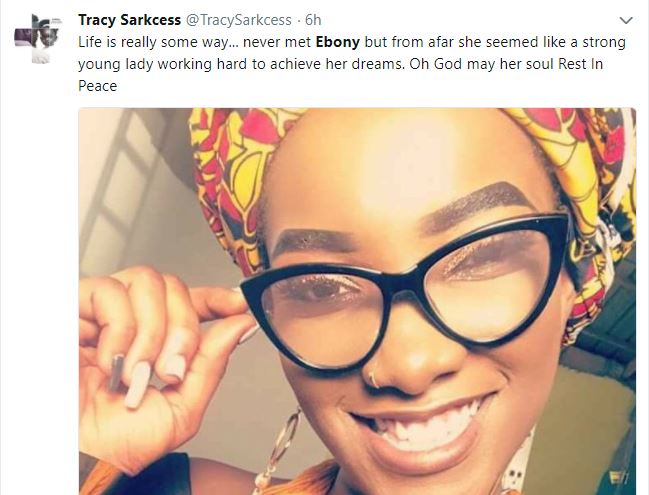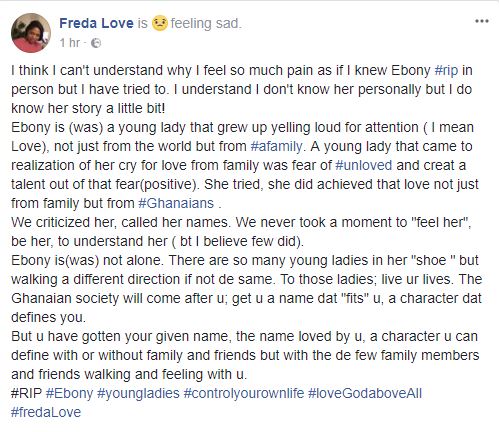 Celebrities mourn
Other celebrities have also tweeted about their shock at her death, and sympathized with her family and loved ones.
Rest well ebony , I hope they are happy now !!

— Dr.Sonnie Badu D.D (@SonnieBaduuk) February 9, 2018
We're going to be sad for a very long time…. R.I.P Ebony..
— Badman Magnom (@MagnomBeats) February 9, 2018
I want to express my heartfelt condolences to the family of Ebony. I pray that the Lord comforts them in this hard time. Let's kindly desist from circulating photos and videos of the incident. #RIPEBONY pic.twitter.com/onU3EYk5c1

— Joe mettle (@jmettle) February 9, 2018
R.I.P @Ebony_Reigns 😔😔😔😔 My heart goes out to her family. #LastShow pic.twitter.com/QxvRmWMhQy
— Kofi Kinaata (@KinaataGh) February 9, 2018
Suzzy Williams, Terry Bonchaka, Ghetto KB ,Vybrant faya……Ebony 😭😭😭😭😭

The good dies young? This must stop!

Jesus protect us please 😭😭

— DKB EBONY 😭😭😭 (@dkbghana) February 9, 2018
Sorry Ebony ❤

— Pappy Kojo (@PAPPYKOJO) February 9, 2018

Fatal accident
Ebony was travelling with three other people, two of whom have also been confirmed dead. The two included a young lady, Ebony's assistant, and a man in military uniform believed to be a soldier.
The driver of the Jeep survived the crash, but is currently unconscious and receiving treatment, according to police.
–
By: Delali Adogla-Bessa/citifmonline.com/Ghana