Police in the Ashanti Region have picked up eight persons after over 30 irate traders besieged the premises of the Kumasi Metropolitan Assembly (KMA) on Tuesday evening to protest the arrest of their colleagues.
The officers were called in after the traders massed up at the Assembly's premises and threatened to attack some workers.
According to the Assembly, the relocation task-force on Tuesday morning went to the Central Business District to evict traders selling on pavements as part of its exercise to decongest the metropolis.
Some of the traders were arrested by police after pulling knives on the task-force members and resisting attempts to evict them from the pavements.
Their colleagues who were wielding sticks and other implements later in the evening besieged the offices of the KMA to protest the arrest.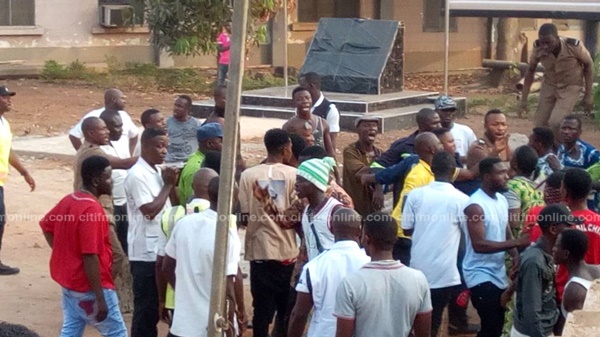 The Assembly's City Guards blocked the entrances of the KMA to prevent the irate youth from getting access to the main yard.
The development resulted in a vehicular jam along the KMA-Adum stretch as the atmosphere was charged.
Most of the irate traders absconded when police arrived at the scene. The police later chased them and managed to pick up eight persons including two females to the Central Police station.
Narrating the incident to Citi News, Public Relations Officer of the Kumasi Metropolitan Assembly, Godwin Okumah Nyame, said "the police this morning arrested some traders to the Central Police station and they thought that those who were arrested were here. For that matter, they mobilized and came here."
"The police who were also on alert quickly moved here and arrested those who came here. They came here with some sticks and then some offensive weapons just to attack our people" he added.
He disclosed that the relocation task-force as part of the exercise arrested ten drivers and put them before court for loading and dropping off passengers at unauthorized places.
He said four of them appeared in court and were charged, while a bench warrant has been issued for the arrest of six others who failed to appear before the court.
Mr. Nyame indicated that, the Assembly will deal with recalcitrant drivers and traders who fail to comply with the relocation exercise.
According to him, the Assembly has done enough sensitization on the exercise and was worried how some were not willing to comply.
The KMA has relocated traders and drivers from the CBD and Kejetia to the Racecourse terminal and other markets in the metropolis.
The exercise is to pave way for the completion of the Kejetia redevelopment project and also decongest the metropolis.
–
By: Hafiz Tijani/Citifmonline.com/Ghana