Head of Blood Transfusion Medicine Unit at the Komfo Anokye Teaching Hospital [KATH], has called on the general public to adopt a constant attitude towards donating blood to continuously stock Blood Banks across the country.
Dr. Shirley Owusu Ofori made the call at the 8th edition of a blood donation exercise organized by MTN-Ghana as part activities to mark this year's Valentine's Day.
The annual event, which was held at the Seventh-Day Adventist Senior High in Kumasi, is a collaboration between MTN-Ghana and the Komfo Anokye Teaching Hospital's Blood Bank.
Dr. Owusu Ofori emphasized that giving out blood must be a constant and committed endeavor by the public to keep the country's blood banks running.
"As a country, we need not to be comfortable because we need a constant supply of blood all year round. We need to engage the public, we need to raise awareness, we need to get new donors on board each time, and we need our old donors to continually donate such that we have a constant supply all year round".
She said Valentine's Day was the best day for organizations and corporate bodies to support blood donations since giving a pint of blood could save lives, and it is also a way of showing love to the needy.
She commended MTN-Ghana for its consistency in supporting blood banks across the country for the past years to continually restock the blood banks.
MTN-Ghana pledges support for Blood Banks
MTN-Ghana's regional commercial head for the Northern sector, Peter Bimpeh, has reiterated the company's commitment to prioritize quality healthcare delivery in the country as part of its corporate social responsibilities.
He said the blood collected from the nationwide exercise will be used to restock the National Blood Banks as well as blood banks at the Komfo Anokye Teaching Hospital (KATH) in Kumasi, Effia Nkwanta Regional Hospital in Sekondi-Takoradi, Tamale Teaching Hospital, Bolgatanga Regional Hospital and the Cape Coast Regional Hospital.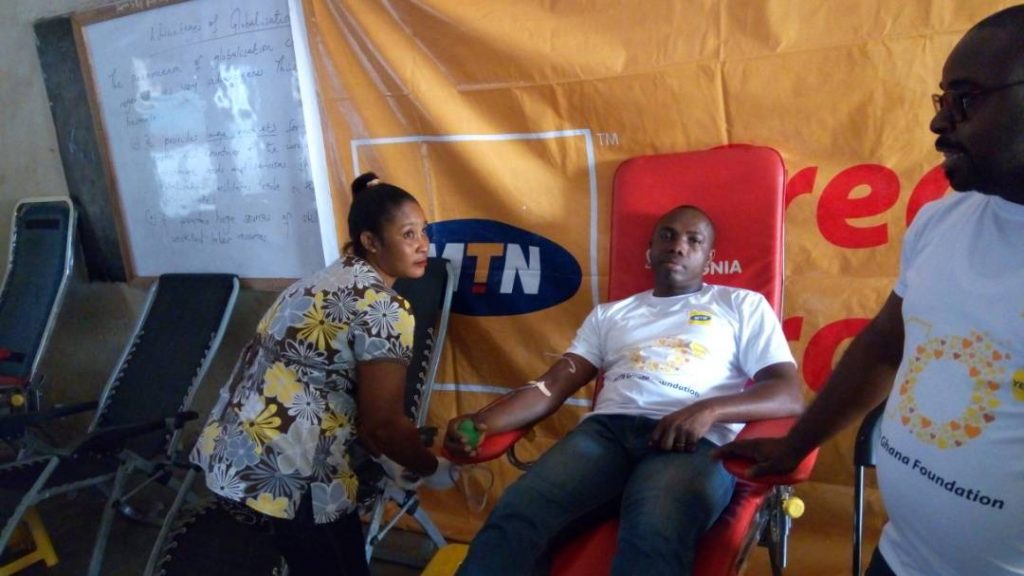 According him, blood donation was necessary and essential for the country's healthcare delivery.
He revealed that MTN-Ghana for the part eight years has donated 6,000 pints of blood to the KATH Blood Bank.
Students queue to donate
The about 1000 student population joined long queues to partake in the exercise.
The students, who were supervised by their tutors were screened by officials of the Blood Bank before finally donating the blood.
They expressed excitement and urged the general public to help restock the country's blood banks.
The students also commended MTN-Ghana for choosing to hold this year's Valentine's Day edition of the blood donation at their school.
–
By: Hafiz Tijani/Citifmonline.com/Ghana