Business College International (BCI) in Tamale has launched its 15th Anniversary celebrations with a promise to increase its scholarship package quota to assist needy students.
The school's Head of Operations, Bilal Shamsudeen, at the official launch recalled that the school in 2003 began
with a student population of 165.
According to him, the school has since produced 8,000 Senior High School and 1,500 diploma graduates.
"These include students from Nigeria, Burkina Faso, Ivory Coast and some as far as Kenya. These students are doing very well in many governmental and non-governmental agencies nationwide. Some in the military, health services, the police, teaching, banking, trading and other businesses."
Bilal Shamsudeen Taimako stated that the school has, by extension, established what is known as the Taimako Educational Support Programme (TESP) to give scholarships to 15 female students each year to study agricultural Science.
"This is to last for 10 years making 150 girls in total. This initiative is the brain child of Hajia Taimako who has distinguished herself in Agroforestry and Herbal medicine."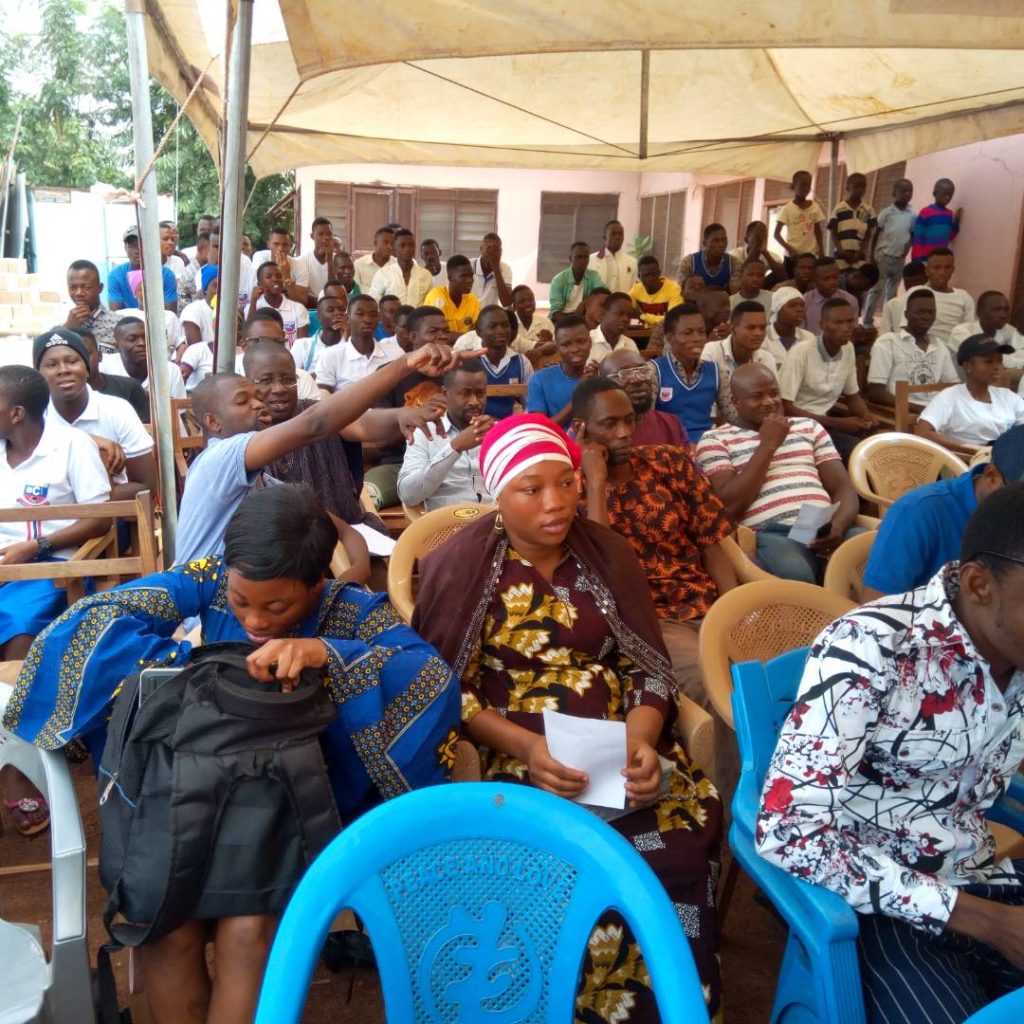 "Our scholarship isn't for brilliant but needy students but for needy students. Many of these students are diamonds in dirt that have not been found. They need the opportunity before we can realize their true potential," he stressed.
He reechoed discipline as the school's hallmark saying, "It is our foremost responsibility to train students to be hard working, dedicated to duty, to be honest and sincere in their dealings and most importantly to be disciplined."
"Our believe is very simple. If we fail to inculcate discipline and put the young ones right then we are not only to fail the students but fail our nation. The society as it is today is failing us in this regard. The school cannot and must not fail in putting the students right."
Bilal Shamsudeen Taimako reiterated the school management's commitment to improving infrastructure and also introducing more initiatives to churn out community and nation builders.
The school's Director, Alhaji Ibrahim Taimako commended Prudential Bank, other organizations and individuals for their continuous support.
He singularly extolled the Northern Regional Director of the Ghana Education Service (GES), Alhaji Mohammed Haroun Cambodia for his guidance and counselling to the school's management.
Awards and citations were given to deserving organizations, individuals, continuing and past students.
Alhaji Mohammed Haroun Cambodia, Fancy Gadam and Maccasio were among the distinguished awardees.
As one of the Northern Region's best performing private second cycle institutions, the BCI was established in 2003 to give junior school graduates the opportunity to acquire secondary and diploma education.
The school is located on the Tamale-Bolgatanga highway at Kanvili and not far from the Kamina Barracks.
–
By: Abdul Karim Naatogmah/citifmonline.com/Ghana