The National Organiser of the National Democratic Congress (NDC), Kofi Adams has indicated the resolve of his party to continue its critique of the Akufo-Addo government following the arrest of its Deputy General Secretary of Koku Anyidoho.
Mr Anyidoho was arrested on Tuesday for comments he made in his criticism of the ratification of the controversial defence cooperation agreement between Ghana and the US, which were deemed treasonable.
His Oyarifa residence in Accra was also searched before he was moved from the police headquarters and sent to an unknown location after he was refused bail.
In an interview on Accra-based Happy FM, he warned of the overthrow of President Nana Akufo-Addo due to the ratification of the deal, stating that the overthrow will be in the form of a "civilian coup d'etat".
Speaking after Mr. Anyidoho finalised processes for his bail, Mr. Adams said the NDC had only grown bolder by the treatment of its Deputy General Secretary.
"We in the NDC will not stop speaking about the wrongs that this government and President Nana Akufo-Addo and his VicePresident Dr. Alhaji Mahamudu Bawumia are visiting on this country and continue to visit on the country."
"Indeed were even more emboldened to continue to raise the wrongs and we are going to continue doing this. We will fight and speak against this occupation of foreign forces in our land. We will make sure the sovereignty of Ghana is protected," Mr. Adams said.
The day after Mr. Anyidoho's arrest, NDC bigwigs joined the Ghana First Patriotic Front, a coalition of opposition political parties, to demonstrate against the government for approving the controversial defence cooperation.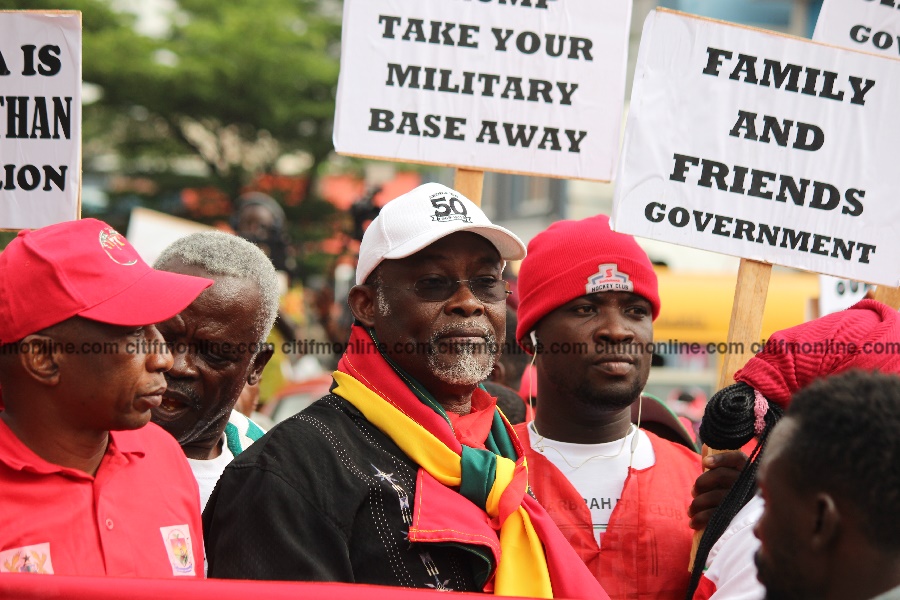 Support from Mahama
Former President, John Mahama was unhappy with the way Mr. Anyidoho was taken into custody by the police after the comments he made.
On Wednesday, Mr Mahama criticised the Police for what he described as their 'high-handed' responses to "innocent" Ghanaians who massed up at the Police Headquarters on Tuesday night in solidarity with the arrested NDC national executive.
In a Facebook post, the former President chided Akufo-Addo government for the manner in which Mr Anyidoho was arrested.
He, however, did not make mention of the comments made by Mr Anyidoho which have been widely condemned.
Mr. Mahama later visited Mr Anyidoho at the BNI headquarters.
–
By: Delali Adogla-Bessa/citifmonline.com/Ghana