The President of Yale University, Peter Salovey, made an inaugural visit to Africa, one that will be the first by a Yale President ever since the Ivy League institution was founded in 1701.
While in Ghana, the 23rd President of Yale University granted an exclusive interview to Citi FM's Caleb Kudah touching on issues of racism in the Yale, and how he is dealing with it.
He touched on the government of Ghana's free SHS policy, Yale's funding model and how Ghanaian tertiary institutions can adopt same, the future of tertiary institutions and Yale's plan for Africa.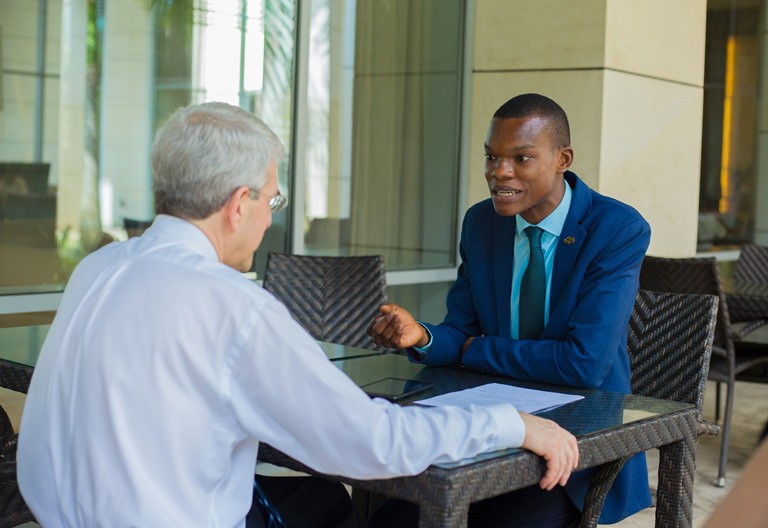 Below is a transcription of the full interview:
Caleb: You will be the first ever President of Yale University to visit Africa after nearly 317 years of your establishment. Hasn't that been long in coming?
Salovey: Yes, I would guess it has been. But you know it's so interesting at this moment where 12 African countries are in the top 20 among the fastest growing economies in the world, it's an incredible moment.  But mostly, we're just seeing so much interest in Africa by Yale students and so much interest in Yale here in Africa so it seems that the time has come.
Caleb: So the time has come and there is a great opportunity for Yale to take advantage of…
Salovey: I think that's true. Our way of working in countries beyond the United States is to develop partnerships. We don't build campuses. But what we really like to do is form partnerships so that it is a genuine collaborative relationship where both parties learn from each other. Those partnerships can be built on student to student, faculty to faculty, institution to institution and we are here trying to do all of that.
Caleb: During your inauguration as President of Yale in 2013, you promised a more unified, accessible, innovative and excellent Yale how well are you doing on that promise?
Salovey: Thank you. These are broad goals. But by a more unified Yale what we meant is bringing the campus together across boundaries. Whether there are boundaries that separate the different kinds of students, or boundaries that separate the disciplines, we could be better together as the expression goes. Accessibility largely meant making university education at Yale affordable for people of all economic backgrounds. And we now give very aggressive financial support to domestic and to international students. We admit them without regard to their financial background. We call it need blind – meaning that the admissions office tries to put together  the most interesting class it can based on peoples intelligence, talents and motivations, and is blind to whether they need financial help to come to Yale and we give that financial support in the same way whether they are domestic students or international students. And so more than half of our international students receive financial aid from the University for Yale College, they receive on average more than $50,000 a year. Most international students are going to come to Yale without a cost to their families. There are a few universities in the US who do this. We are not the only one but it is still unusual.
CALEB: As the proponent of emotional intelligence how intelligent will you say Yale University has become in the face of stark racism against its 21% international student population?
SALOVEY: This is a complicated question. By emotional intelligence what John Mayer and I meant was that we all have a set of skills that we can refine, develop and measure that allow us to process emotional information and to take advantage of what that information provides. So these are skills around identifying emotions, understanding them, managing them and using them in interpersonal ways. Now to say that an institution is emotionally intelligent is an interesting question. I guess what the real thing is as an institution is, are we cultivating empathy, an understanding of others, our willingness to learn from others.
One of the ways we do that is through the diversity of our student body. Undergraduates at Yale are 11%, international graduate students are about 30-35%.
In Yale College, if you combine the international students with American minority groups, African-American, Asian, Latino and Native Americans, all that combined is more than half of the class. Having that kind of diversity really helps people learn in an emotionally intelligent way from people whose backgrounds are different from their own.
We do have moments where we are not best ourselves. Like almost every campus in America there have been incidents where people are not tolerant, but I will say we learn from them and move on. Yale is a very welcoming community. The idea of inclusion is now very important to us.  Diversity is a statistical issue, what are your numbers? That only takes you so far. Inclusion means everybody feels this is their place. And when Yale started I wouldn't have been welcomed, you might not have been welcomed, none of us. But it's a very different place now than it was in 1701. But how do we ensure that despite not sharing nearly 317 years of history, it's our place?
CALEB: We read on the internet and our friends at Yale tell us contrary to all the massive publicity about Yale there are everyday cases of racism in their face. And they feel that is still an issue that the University hasn't been able to address. What are you doing to ensure that Yale is a more inclusive institution these days?
SALOVEY: I hope there aren't everyday examples. But we have to teach in classrooms. We have to develop friendships in our residential colleges, our students all live together, they are randomly put together so the most likely scenario is you are living with someone who is not like yourself and we learn from those examples. We have to be always talking about the challenges that confront our country. Listen, what you are describing and what friends are describing are not unique to Yale. It's pervasive in the American society. But we can be better than that.
CALEB: Especially when you say you want to build a better world, a better future…
SALOVEY: That's the first sentence of our mission. To improve the world today for future generations. I don't think today in America on University campuses like Yale, you'll see a lot of explicit racism where people will say they don't like someone because of their background.
CALEB: There was an all-white girls' party recently which banned black girls from attending, there was the Halloween custom controversy all on Yale campus which sparked heated debates the world over on racism at Yale that challenges your claim.
SALOVEY:  I think the issue is something more unconscious. People need to examine to our assumption. It's a little hard to examine something that is unconscious but I think we have to become more aware of the biases that everyone holds. But we do not see a lot of explicit racism what we see is unconscious bias that we see rear its head.
CALEB: So we will see a more inclusive Yale very soon?
SALOVEY: I think that's already well underway. Those difficulties that you described the Halloween a few years ago, people learnt from them, and learnt the importance of taking the perspective of someone else and how they will view our custom and our inaction.
CALEB: How about Calhoun College? (One of 12 undergraduate residential colleges in Yale, named after America's most prominent defender of slavery and 7th Vice President 1825-1832)
SALOVEY: At the time, the University named the College after John C. Calhoun, an alumnus of Yale College who became Vice President of the United States, the University was proud of his legacy. But his stance on racism is something the University is not proud of. It does not conform to our mission and values. We will rather keep his statue in our art gallery for purposes of historical studies. We have renamed Calhoun College. We have named it Grace Hopper. Grace Hopper was a woman who was very early in computer science field, she invented the first compiler. Also we have a College named after Pauli Murray. She was a civil rights leader, worked on gender and racial equality and came to Ghana to teach at the University of Ghana.
CALEB:   So clearly women are being celebrated here.
SALOVEY: Exactly, that is my point.
CALEB: In Yale University's nearly 317 years of illustrious history, you have produced 5 U.S presidents including Bill Clinton who you describe as highly emotionally intelligent. 4 of your graduates actually signed the American Declaration of Independence among many other products all over the world. What were the principles of the founders of Yale that have kept it going all these years?
SALOVEY: Now that's a very interesting question. The University was founded essentially as a seminary and trained ministers. That gave it a very strong moral compass. But in 2018, we are a very different Yale than we were in 1701. In the 1700s, Yale largely trained ministers to work as preachers or scholars.
CALEB: That should explain why your first principal Abraham Pierson was a minister.
SALOVEY: Exactly. In fact, the first several principals were ministers. In the 1800s, Yale became a regional college training students in what was thought as the liberal arts in those days. In the 20th Century Yale became a national university, adopted strong research programs and combined them with very intense focus on undergraduate liberal education. But in the 21st century, we are a global university educating students from all over the world in the liberal tradition which means teaching general skills that helps one think critically, communicate better, work in teams and work in leadership positions anywhere in the world in any sector.
CALEB: Clearly, the phase of higher education is evolving. What would you say is the next phase of higher education globally?
SALOVEY: That's a very good question. You know accessibility is a huge issue. We really need to make sure that students can afford a college education. It's an issue here in Ghana, it's an issue in the United States. Unfortunately right now, we are seeing our states investing less in their colleges and universities. I am worried about that, I am worried that a ticket to a better life which is what a college education was, is becoming very expensive. So Yale is trying to address that by giving very aggressive financial aid. If you are at the average income level in the US, your family is from the average income level or lower in the US, and you are admitted to Yale, you come to Yale with no financial burden to your family.  We have to be that aggressive or we are going to have a much skewed educated community.
You know my grandparents did not go to college. My dad was the first in his family but his parents really believed in the value of education. But when he went to college he went to City College of New York, it was free, he went to graduate school at Harvard it was free. I graduated from high school from the Bronx High School of Science it was free.
CALEB: That was free education all through.
SALOVEY: That was free education all through and that is hard to find now for a student from a family of limited financial background. We have to make sure that that doesn't get lost.
CALEB: Here in Ghana, President Akufo-Addo has launched the Free Senior High School program. He believes the program will make Ghana like America in the next few years because when America started its free education program it did not have the financial muscle it has now. Giving every Ghanaian child free SHS education regardless of whether they can more than afford or they are really poor and cannot afford is the best way to go. You are an academic who believes in the value of education and an administrator of a university that knows the cost of education. What are your thoughts on a middle income country like Ghana rolling out free SHS?
SALOVEY: I can't claim to be an expert on Ghana and the debate that you are having. But I think free education through high school is very very important. That's where students learn basic skills – reading, writing, arithmetic. That's where students learn what it takes to be ready to take a job and contribute to society. I think there is nothing more important than a society that can provide free education at least up to a point. In the US that's up to age 18.
For colleges and universities, I think what we want to do is to create access for students who cannot afford to come, it's free. For students somewhere in the middle, they pay a little bit, and for students who are from wealthy families they pay more. It's a way of making it possible for everyone to get a college or university education. A kind of slide in scale model. So free up to a certain point that makes sense for society and then slide in scale after that.
CALEB: So the cost of tertiary education should be targeted, you propose?
SALOVEY: Yeah, College education should be targeted by how much income you earn.
CALEB: But Senior High education should be completely free for all?
SALOVEY: I would hope so. If a country can afford it, I think there is nothing more important for the future.
CALEB: After government rolled out Free SHS here in Ghana, enrollment has been huge shooting up by 90,000.  But the spaces in tertiary institutions are not expanding as fast as would be desired. What are the dangers if we do not expand to accommodate the huge numbers?
SALOVEY: You are right. This could be a very frustrating experience because you now have all of these college ready students but not an increase in College spaces. But I think as the country can afford it, increasing those opportunities are going to be important. But you know, we admit students from Ghana every year. In about another few weeks, we will learn many have been admitted this year. But I know there are Ghanaians in that group. And that's another safety valve here, coming abroad, studying abroad and we will provide the financial support for all those who need it.
CALEB:  So Yale is ready to open its arms to every Ghanaian?
SALOVEY: Very much. I think Ghanaians will find that we have worked very hard to create an inclusive University where they will be valued and they will have a very very good experience.
CALEB: Talking about that, there are more notable Ghanaian alumni of Yale like our current Minister of Finance Ken Ofori-Atta, Executive Director of CDD, Prof. H.K Prempeh, Chief Executive of Tullow Oil Ghana Kweku Awotwi, how well would you say Yale alumni are doing in Ghana and Yale in particular?
SALOVEY: So we are very proud of the students from Ghana who came and studied at Yale and then returned home and became leaders in society.
Our goal is to educate leaders for all sectors of society throughout the world and so this makes us very very proud. I had breakfast with Finance Minister and last night he was wearing his Yale hat at our reception. He is proud of his time at Yale and we are very proud of him. It creates wonderful connections between our countries and we very much hope that future students from Ghana will lead similar lives of leadership.
CALEB: Do you consider the popularity of online courses like Coursera a threat or an opportunity?
SALOVEY: I think it's more opportunity than threat, in two ways. First, it really can expand our reach. We can bring Yale Professors to the world and vice versa, and I think that's a very important aspect of online education. We also can enhance classroom teaching with technology. If I was teaching interactive psychology class today, I would have students watch at home the lectures using online tools. And then in the classroom we will have more discussions, more debates, more demonstrations and experiments so the classroom becomes much more hands on kind of learning environment.  So I am a fun of learning of technology.
CALEB: We are seeing many UK universities building campuses here in Ghana. What is Yale's plan for Africa particularly Ghana?
SALOVEY: I am delighted that other universities are building campuses, that's fine. But what we want to do is to make sure that everyone involved in our programs internationally has an intercultural experience both of the place where we have our programs at New Haven Connecticut where we have our main campus. How do we do that? Well, we look for institutions where our faculty already have collaborative relationship with other faculty, we look for institutions where our students have visited and studied or we have students who have come from that institution and come to New Haven Connecticut to study at Yale, and then we try to build our partnership around that idea. We have with the University of Ghana for example such a partnership. It begun really with collaborative research in public health and now we can build on it and extend it. I like that idea because I worry when you build campuses, are you really having an intercultural exchange, are you really having a partnership that values, respects and integrates both cultures or you are just building a little enclave?
CALEB: Now let's talk about funding. Here in Ghana, many universities are struggling because government contributions delay and dry up. So tell us the American model for funding tertiary education in America in general and Yale University in particular that your Ghanaian counterparts can learn from because I know Yale University is named after a philanthropist called Elihu Yale, and also Yale has an endowment fund that exceeds $25billion which makes it the second richest educational institution in the world.
SALOVEY: Essentially, there are two ways to fund education. One is from government support. And the United States has built a network of wonderful state colleges and Universities that have been the ticket for education for the vast majority of college students. I am very concerned right now that they tend to be supported at the state level not the federal level, and I am very concerned that some of those states are no longer investing at the same level that they once did.
This is very shortsighted as an educated population is one that is going to be innovative, that's going to push the country in new directions, develop new sources of wealth and create jobs. The other way you can fund higher education is through philanthropy. Most of the private colleges and universities use some versions of philanthropy. Yale along with some other private universities has been lucky, we have had gifts to the university since 1701. The founding of the university was based on philanthropy.
CALEB: Including the very house you live in as President of Yale (Hillhouse Avenue).
SALOVEY: Yes, it is a gift to the University, good example. And then we can invest those gifts in an endowment it can grow over time. But then, we spend five and a quarter percent of that endowment a year, very important. It supports our one third of Yale's budget and it's what enables us to give the financial support that we give to students. The other sources of support at Yale are research grants from the government very important for work in the medical school, clinical activities, and physicians generate some money and then students in some programs are paying fees. Students who can afford in the programs for example in their college do pay and that generates some support too. But, the endowment model and investing it carefully, but then spending it every year is very important for us to be able to provide the financial support that we provide.
CALEB: To your Ghanaian counterparts what will be your advice on how to raise the funds?
SALOVEY: It's hard for me to give advice now…
CALEB: But is it so easy to do?  
SALOVEY: Well it's not so easy, you have to find people who can afford but there are many grateful people who have gone through the university here, some of whom have become wealthy and there is a culture in which they recognize the university has a target for their philanthropy is a good one to develop.
CALEB: In wrapping up, how has your first visit to Africa, Ghana for that matter been like?
SALOVEY: The visit has been fantastic. Ghanaian people have been so warm. I've had to do things like hang out in James Town and see the hip places in town at least one of them. And people have been very interested in Yale. But it's a two way street, we are very interested in Africa. Our students want to come here and learn from their counterparts here in Africa, our faculty wants to collaborate with African professors and institutions. We want to build more of that. The way in which economies here are changing so rapidly, the obvious resources on the continent, the obvious importance of Africa to the future, to world peace, to climate change, to sustainability, we can't solve global problems without partnerships that are international. And I don't see any of those problems being solved without Africa and US working together. And I am pleased to help build those ties on behalf of my country but also on behalf of my university.
CALEB: Is this interest in Africa, its resources and emerging economies another power struggle and scramble for Africa's remaining resources?
SALOVEY:  I hope not. I hope what we are doing here is looking for partnerships that are win-win. Whether they are partnerships around technology, around health care around environment, I think we work together for mutual benefit. If we are not doing that, then I think we are not doing the right thing.    
CALEB: So what Ghanaian experience have you had so far?
SALOVEY: Like many visitors I have really enjoyed the cuisine. The food here is absolutely delicious. I have been eating a lot of goat soup – absolutely fantastic.
And of course visiting the memorial of your founding President (Dr. Kwame Nkrumah) very moving to me so what I learnt about the history of this country, the history of independence is also an important part of the visit here too. The only way these partnerships work is if it's a two way street, what can I learn from you, what can you learn from me. And I have learnt a lot on this trip.
CALEB: It's been a great pleasure speaking to you President Peter Salovey.
SALOVEY: Pleasure speaking with you too, thank you so much for your time.
–
By: citifmonline.com/Ghana