The Moscow taxi driver who ploughed into pedestrians says he fled because he feared the crowd would kill him.
Footage shows people chasing and then kicking him after Saturday's crash in which at least seven people – including Mexican World Cup fans – were injured.
The man says he had been at the wheel for 20 hours, and mistakenly pressed the accelerator instead of the brake.
Detained at the scene, he has been identified by police as a 28-year-old national of Kyrgyzstan.
A criminal investigation is now under way.
Driver's account
CCTV footage published in Russian media shows the taxi veer out of a queue of stationary traffic and accelerate into pedestrians before coming to a halt.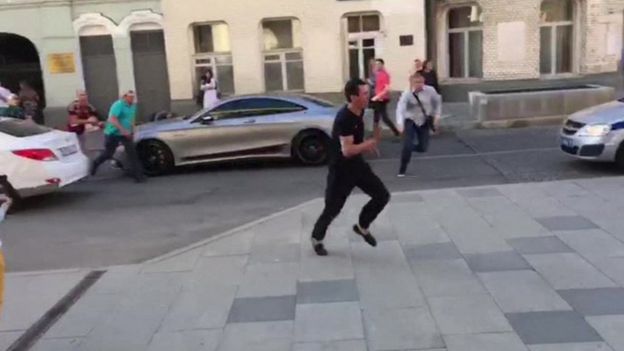 The driver then tries to run away – but is quickly caught by several passers-by.
The incident happened on the Ilyinka street near the Red Square – right in the heart of Moscow.
Police later released a video of the suspect being questioned about the crash.
"I wanted to brake, I wanted to let someone through," he says, visibly upset. "I switched off for a second and hit the accelerator…. then I saw the people."
He says he fled because he thought the crowd of people "were going to kill" him.
"There were so many of them," he adds.
He says he had about two hours of sleep before driving for 20 hours.
The suspect, who says he is a teetotaller, says the crash was accidental.
'Deliberate' crash
But one witness, who was across the road at the time of the crash, questioned this.
"I have the feeling that he did it deliberately because he was in the traffic jam with the cars going really slowly," said Viktoria Geranovich.
"How could he lose control of the wheel, push the gas and drive into the crowds?"
She said "mostly girls" were knocked down, but people rushed to help and the ambulance arrived quickly. "Thank god everything went well. It's scary that this happened in the very centre."
–
Source: BBC