Mexico will deport up to 500 migrants who attempted to storm the US border, according to its interior ministry.
The group were rounded up after trying to cross the border "violently" and "illegally" on Sunday, the ministry said in a statement.
Video footage shows dozens of people – including women and children – running towards the fence that separates the two countries near the city of Tijuana.
US border officers used tear gas to repel them.
Mexico's interior ministry said in a statement that a group of "nearly 500 migrants" had "tried to cross the border in a violent way".
Those identified as having taken part in these "violent events" would be deported immediately, it said.
The ministry added that, "far from helping their objectives", the migrants' actions had violated the legal migration framework and could have led to a "serious incident".
Tensions have been high in Tijuana since the arrival of thousands of migrants earlier this month.
They reached Tijuana after travelling more than 4,000km (2,500 miles) from Central America.
They say they are fleeing persecution, poverty and violence in their home countries of Honduras, Guatemala and El Salvador.
However, they now face a long wait to see if their asylum applications will be accepted by the US, with President Donald Trump vowing to keep each migrant on the Mexican side of the border until courts have decided their case. This could take months.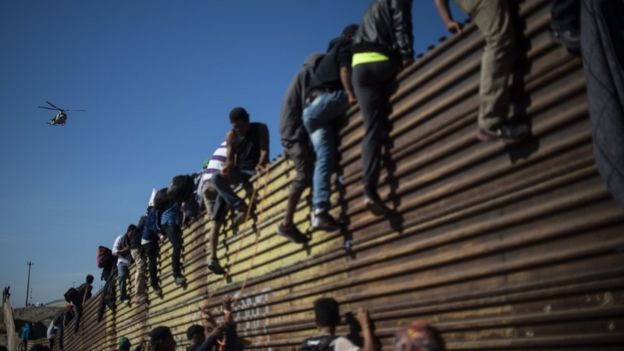 Amid growing desperation on Sunday, about 500 migrants were taking part in a peaceful protest for the right to seek political asylum in the US.
"We aren't criminals! We are hard workers," they chanted.
Mexico's Home Secretary, Alfonso Navarrete, said the migrants had asked for help to organise the demonstration, but were then reportedly encouraged by some of the movement's leaders to split into different groups so they could make a run for the border and try to cross into the US.
According to news agency AFP, a number managed to climb over the first fence. It was as they tried to cross a second, spike-topped wall that officials on the US side began firing tear gas.
An AFP journalist saw the migrants – including mothers and children – trying to protect themselves from the gas, with some crying out that they only wanted to find a work and a better life in the US.
Associated Press journalist Chris Sherman said he had seen parents running away with choking toddlers.
–
Source: BBC