Twitter users have voted in favour of Elon Musk stepping down as the platform's chief executive after the billionaire ran a poll on his future.
A total of 57.5% voted "yes" after Mr Musk asked his 122 million followers whether he should stand down. Mr Musk, who bought Twitter for $44bn (£36bn), said before the poll closed that he would abide by the result.
The technology tycoon, who also runs Tesla and Space X, has faced much criticism since taking over the site. Mr Musk is yet to comment since the poll closed. Even if he were to resign as chief executive, he would remain as Twitter's owner.
More than 17.5 million users voted in his poll on Monday, with 42.5% voting no to Mr Musk stepping down. In the past Mr Musk has obeyed Twitter polls. He's fond of quoting the phrase "vox populi, vox dei", a Latin phrase which roughly means "the voice of the people is the voice of God".
A former Twitter member of staff, who left the company recently, told the BBC that Mr Musk was "showing himself to be the incompetent fool we all knew he was".
Speaking on condition of anonymity, they added: "His investors are surely looking at this now and questioning whether he was the right horse to back.
"I imagine he's getting pressure from investors to step down and is using this poll to make it look like he's following the will of the people instead of the will of those paying his bills."
Among the backers are massive firms such as Fidelity, which is known for managing retirement accounts, and Sequoia Capital, which has backed other technology firms Apple, Google and Airbnb.
Others are thought to be Oracle co-founder and Mr Musk's friend, Larry Ellison, sovereign wealth fund Qatar Holding, and Saudi Arabia's Prince Alwaleed bin Talal.
Mr Musk's private jet appears to be on its way back from the World Cup in Qatar, where he was pictured at the final next to Donald Trump's son-in-law Jared Kushner on Sunday.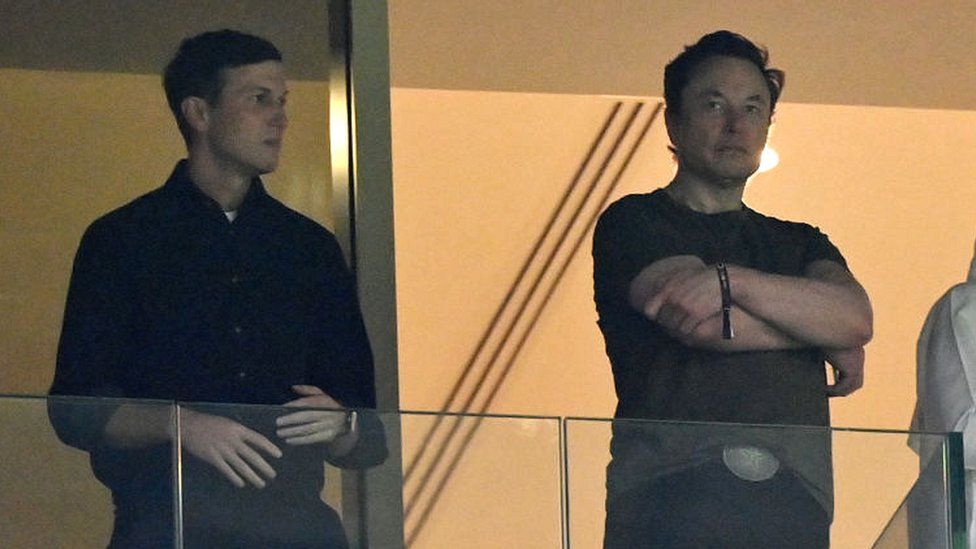 Dan Ives, senior equity analyst at Wedbush Securities, told the BBC before the poll closed that he believed the vote would ultimately lead to the ending of Mr Musk's reign as Twitter chief executive, and that he would probably name a new temporary CEO "in the next 24 hours".
There has been a flurry of controversial changes at Twitter since Mr Musk bought the social media site.
He has also been criticised for his approach to content moderation, with some civil liberties groups accusing him of taking steps that will increase hate speech and misinformation.
The UN tweeted that media freedom is "not a toy", while the EU threatened Twitter with sanctions.
After starting the poll, Mr Musk tweeted: "As the saying goes, be careful what you wish, as you might get it."
He added later: "Those who want power are the ones who least deserve it."