Ghana has another opportunity to capture a world title within a space of seven days as Maxwell Awuku takes on Mexico's Miguel Berchelt for the WBC Super Featherweight title in Cancun, Mexico. This comes after super middleweight Habib Ahmed was outclassed by another Mexican Gilberto Ramirez in a WBO World title fight in Corpus Christi, Texas.
Like Ahmed, Awuku looks outmatched and is without question a huge underdog going into this fight. As expected though, he's confident of snatching victory despite being second best in every department of this fight.
"I'm not just a puncher. I'm a natural and a quick counter-puncher. We Africans are brave, with a lot of professional shame. To fight for the title of the world and the WBC belt is a unique opportunity that will change my life and my family and I will not waste it. I want to thank everyone who intervened for me to be in Mexico to fulfill a dream," he said.
The Ghanaian is not short on self-belief and confidence, but will he return from Cancun with the WBC Super Featherweight title which is considered an heirloom by Ghanaians?
Azumah Nelson's WBC Titles
The WBC featherweight and super featherweight titles hold a significant place in Ghanaian boxing folklore because of the legendary Azumah Nelson. The Professor held the titles at various times from 1984 to 1989, only once venturing out of the two divisions in an unsuccessful attempt to dethrone the classy Pernell Whitaker as the IBF and WBC World Lightweight champion.
Nelson beat Boxing Hall of Famer Wilfredo Gomez to win the WBC featherweight title in December 1984 and defended it six times in a space of 3 years. He vacated the title and stepped up to win the super featherweight strap against Mario Martinez in 1988. The Professor defended the title ten times between 1988 and 1993. His doubleheader against Australia's Jeff Fenech is the stuff of legend. If the first of the two fights which ended in a draw was famous for Azumah's missing mouthpiece before the start of round 10, the second erased any doubts about his superiority over his Australian opponent, as he recorded a sensational eighth round knock out to retain his title. He lost the title to Jesse James Leija but at 35 years Nelson was far from done. He beat Gabriel Ruelas to regain the title and defended it against Leija, opening a ghastly cut above his right eye to leave the referee with no choice but to stop the fight. Nelson had landed 227 punches out of 443 (51%) at the time of the stoppage in round 6. More than half of Azumah Nelson's 39 fights were world title fights, a fact which goes to further strengthen his claim as the greatest African boxer of all time.
It is not likely Ghanaians will ever see a boxer of Nelson's quality. In his prime, Azumah Nelson's fights brought the country to a standstill. He was the country's biggest sporting export. Awuku will never be half the boxer "Zoom Zoom" was, but if he can return to Ghana with the WBC super featherweight title, he'll be half as loved. For a Ghanaian boxer that would be worth more than anything, he'll ever achieve in his career.
Awuku the underdog
An understatement is to say that Maxwell Awuku goes into this fight as an underdog. The odds are heavily stuck against him. He's second best in every department. We often talk about the punchers chance but the gulf in class at play here makes nonsense of any possibility of a lucky punch. A fight record of 44-3-1(30KO's) should give Awuku more of a chance than the pre-fight analysis would suggest, but below the numbers lie a list of inferior opponents, and underpins his status as the underdog.
Only four of his 48 fights have come outside Ghana. Even telling is the fact that it has culminated in two of his three defeats. A 2010 decision defeat to Liam Walsh in the UK and a 2015 defeat to Daud Yordan in the Philipines. Seven of his opponents had lost their last six fights prior to facing him with sixteen of them losing two or more. His last six opponents had lost a combined 26 fights from 36. That's an average of 4 defeats per boxer(out of 6) and a total loss percentage of 72.
Bechelt has had a majority of his fights in his country but the quality of opposition renders the location inessential. His last six opponents have a combined 30 wins from 36. Awuku's last two opponents John Oblitey Commey and Jonathan Yartey had not won a fight in their last six before facing him. Oblitey Commey's fight record currently reads an embarrassing 9-31-0 with 24 of his defeats coming via knock out. He's not won a fight in his last 21. Jonathan Yartey has lost as many as he's won in a 28 fight career. Such bouts do not prepare a fighter for a world title showdown. He's an underdog for a reason. It is difficult to point to an area where Awuku has an upper hand over his opponent. He points to his counter punching ability as his greatest asset. It may be true for B or C level fights but will it be enough in an A level fight against an opponent like Berchelt? Awuku is ranked 106 by boxing statisticians Boxrec while his Mexican opponent is ranked 104 places above him in 2nd place. That surely puts things into proper perspective.
Late replacement and GBA decision to approve
"The Mexicans believe that they will take me by surprise and I am not prepared, they have made a big mistake, I will spoil the party before for their people, I will knock out their champion and then I will go to enjoy the beautiful beaches of Cancun," Awuku said during an interview.
Perhaps Awuku should visit the beaches of Cancun to reflect on his decision to accept this challenge before he steps into the ring. How the Ghana Boxing Authority gave Awuku the go-ahead for this fight leaves me scratching my head in confusion. Miguel Berchelt was originally scheduled to take on former two-time junior bantamweight world champion Cristian Mijares in a second title defense but a reported disagreement between the camps scuppered the bout. Mijares was replaced by Filipino Carlo Magali.
While the fight was signed and approved by the WBC, boxing regulators in the Philipines refused to rubber stamp it because Magali had not had the required days of rest after his last fight on January 13. Awuku took this fight with only two weeks left for the event and surprisingly got approval from the Ghana Boxing Authority.
The GBA is supposed to be the custodian of Ghana boxing. The Peter Zwennes led administration has a duty to protect Ghana's boxing reputation which has been built on the back of great performances characterized by strength and sheer determination by the likes of Azumah Nelson, Ike Quartey and David Kotei. A reputation that has been eroded in the last few years due to boxers taking up world title challenges they're clearly not up to. One can easily point to the one-sided pummeling of Habib Ahmed by Gilberto Ramirez barely a week ago in an event televised across the world by ESPN. Ahmed had more than two weeks to prepare and offered zilch by means of a challenge. It is almost easy to gauge how Awuku will fare with a couple of weeks training camp against a Mexican world champion.
The Ghana boxing authority has set up Ghana for another night of ridicule and shame. They had a simple task; weigh Awuku's chances of winning a world title against the implication of a defeat on Ghana's boxing credentials. The current generation of Mexican boxers has global respect and recognition because of the exploits of priors such as Julio Caesar Chavez, Clemente Sanchez, Oscar De La Hoya, Jose Luis Castillo and Salvador Sanchez who handed our own Azumah Nelson his first defeat. They also know that Mexicans have high expectations and are mindful of the level of performances they showcase.  The GBA is morally and ethically bound not to approve fights involving Ghanaian boxers when they're clearly overmatched.
I would have no qualms if this fight was a non-title fight. Ghanaian boxers must go into world title fights with a decent chance of winning. The GBA must ensure this by setting a minimum standard that boxers must meet to challenge for a world title. The ramifications of cumulative losses over a period in world title fights could be dire for the later generation of Ghanaian boxers.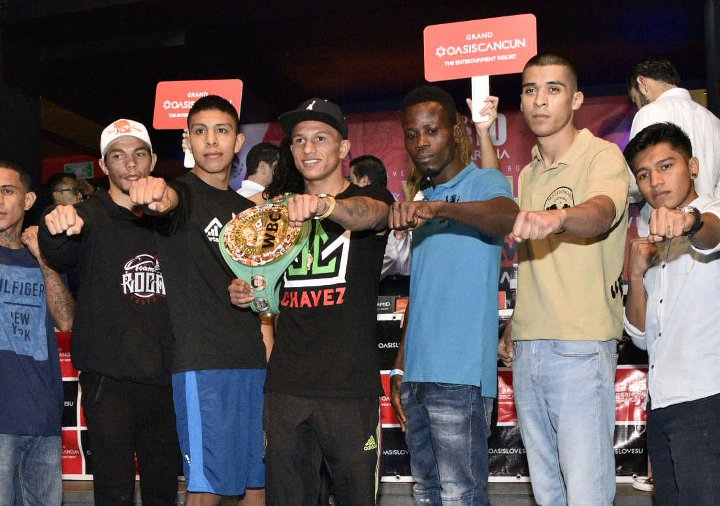 Prediction
Maxwell Awuku has never been knocked out but that could change by Sunday morning as I can't see this fight travelling the distance. Just like Habib v Ramirez, Bercherlt v Awuku is another mismatch. The Mexican took steps forward towards better opposition in Francisco Vargas and Takashi Miura, but Awuku is a big step back and rather meaningless if this fight is meant to serve as a resume booster. Berchelt faces the WBC's number one ranked Miguel 'Mickey' Roman should he successfully defend his WBC title against Awuku. For a Ghanaian boxer who made his pro debut sixteen years ago, one suspects this fight represents a huge pay day for Maxwell Awuku and signals the beginning of the end to a career which probably never took off. Buckle up Ghanaian boxing fans. Another night of misery awaits.
–
By: Hans Mensah Andoh
Facebook: Hans Mensah Andoh
Twitter: @hans_mvp