A former Presidential candidate of the People's National Convention (PNC), Hassan Ayariga, says he offered to pay the $20 million being invested by the United State into the Ghana Armed Forces this year as part of an agreement that will allow their troops to be stationed in Ghana.
According to Mr. Ayariga, the Memorandum of Understanding for defence cooperation, which was approved by Parliament on Friday, amounted to the sale of the country's sovereignty.
Speaking to Accra-based Asempa FM, Mr Ayariga said he had written a cheque for $20 million dollars, which he had taken with him to Parliament yesterday in order to prevent the deal from being approved.
"I went there to give them the cheque if they are ready. They should take the $20 million they want and leave Ghana for us. We want to buy off our sovereignty and we think that if it is the money that the military wants to take, they should come for this, we'll give it to them for free. After all, everybody is supposed to be a stakeholder and help build Ghana," he said.
"Nkrumah bought the sovereignty of Ghana with his life, others died to protect Ghana, military men went to war to get out freedom and a whole lot of people sacrificed their lives to make us have comfortable lives today. So we will not allow the Danquah-Busia tradition to sell our sovereignty for a mere $20 million. We will not do that. If that is what their interests are, we will allow them to have the $20 million and leave us to live in peace."
'Protests today, expect more Wednesday'
On Friday a number of protesters who tried to gain access to Parliament to protest the anticipated approval of the deal were prevented from entering the House.
The main entrance of the House was shut with strict access checks being conducted for members of the public and workers seeking to enter.
The protesters however chanted slogans and songs outside the House.
The leader of the protesters suspended CPP youth leader Ernesto Yeboah, who was dissatisfied with Parliament's decision, said they posed no threat to the security of the House.
"Are we holding guns? So on what basis are we disallowed from entering Parliament to have a sight of the proceedings in Parliament? They have absolutely no basis to restrain us from entering to have a sight of the proceedings. We are going to enter, we are going to sit down, we are going to observe the rules of Parliament.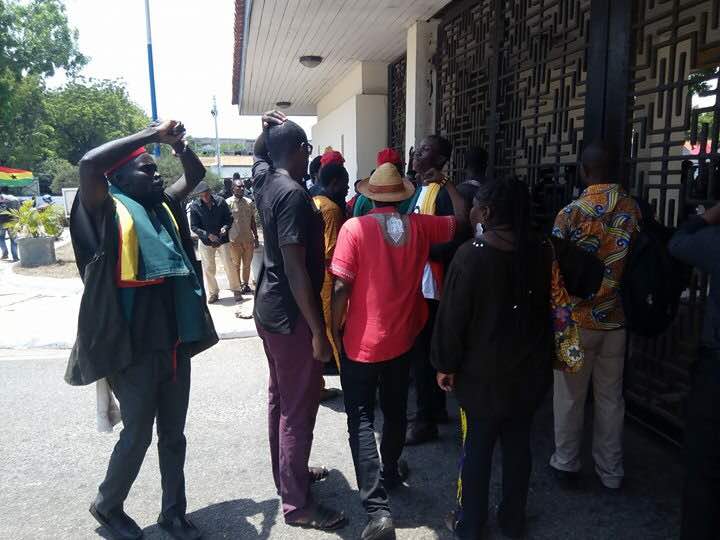 And according to Mr. Ayariga, another protest had been scheduled for Wednesday if Parliament fails to throw out the deal.
He suggested that the US might have ulterior motives for setting camp in Ghana, stating that they might have designs on the country's oil reserves.
"They are going to have free access to our water bodies, our oil is there. What do we think they are going to do? Take our crude out of this country. Let us not make this a political thing. What we are doing today is not about politics. What we are doing is to defend our nation that is why our Constitution made it clear that Parliament cannot pass something if the Ghanaian people don't want it. If the Ghanaian people oppose it, Parliament has to go back, reconvene and take another decision. On Wednesday, there's going to be a serious demonstration, the one we have done today at the Parliament House is small," he added.
Background
The Minister of DefenCe, Dominic Nitiwul, on Tuesday laid before Parliament the document seeking to ratify an agreement for space around the Kotoka International Airport, which will serve as a camp for some US military forces in Ghana.
The approved agreement will among other things, exempt the US government from paying taxes on equipment that is brought to Ghana.
They will also be given the chance to set up their own telecommunication system, although they will be allowed to use Ghana's radio spectrum free of charge.
Although many Ghanaians have expressed resentment over the clauses of the agreement, government has defended it and said the agreement is in the best interest of Ghana.
But the Minority had earlier called on government to withdraw the agreement in its current form, saying it is not in the best interest of Ghana.
The deal was eventually passed late on Friday, by only Majority Members of Parliament because the Minority had staged a walkout during the debate on the Floor of the House.
–
By: Edwin Kwakofi/citifmonline.com/Ghana