Former Vice Chairperson on Parliament's Constitutional, Legal and Parliamentary Affairs Committee, George Loh, has accused the Majority Leader of Parliament, Osei Kyei Mensah-Bonsu, of obstructing the passage of the Right to Information Bill (RTI) when the National Democratic Congress (NDC) was in power.
According to him, the bill was far advanced and needed only three readings in Parliament to become law, but Mensah-Bonsu, who was then the Minority Leader, said his team members were not interested.
"We had shepherded the bill and we were left with just few clauses. But you know when it got to the crunch and we were supposed to do it…it was the opposition leader then, Osei Kyei Mensah-Bonsu, who said there were better things they [Minority] are thinking about, [Mensah-Bonsu said] our people are not willing to do it, we would not want to do it. We [NPP Minority members] have had a meeting and we think that this is not the right time so when we [NPP] come [to power] we will pass it," George Loh said on Citi FM's current affairs and news analysis programme, The Big Issue on Saturday.
George Loh explained that his committee had done all the necessary amendments to the bill saying "we were at the tail end of it, few more amendments and we would have been done" but lamented that the minority members were adamant.
Mr. Loh, who is also a former Member of Parliament for North Dayi Constituency, said the NDC did all within its power push for the passage of the bill including getting the Attorney General's Department to incorporate all the amendments needed into one document for easier scrutiny and approval.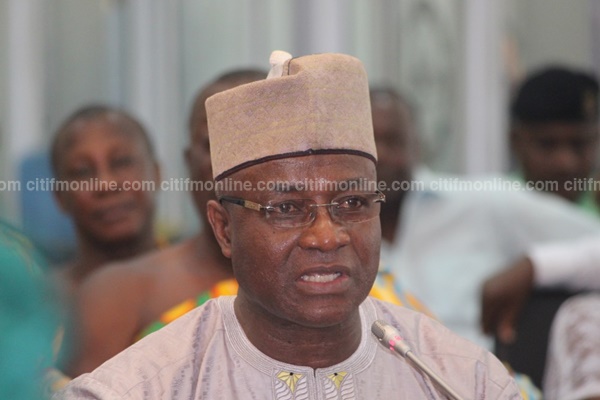 RTI bill could be passed within three days
He noted that at that level, the bill could have been passed into law within three days, but for the Minority's resistance.
"Let me give information about what we did on the RTI bill. We got the Attorney General's department to get to incorporate all the amendments in a totally new document. So what was going to come to Parliament was no longer going to come with all the amendments on it. So we were going to go quickly go into the first reading, then one or two sessions, make sure we go through and make few changes then go through the second reading and then the third reading then it is passed."
"So in actual fact, in three days, if government is minded to ensure that the Attorney General comes to sit in Parliament and be part of this bill, it could be passed. We have done all the work. We've incorporated all the suggestions and did all the necessary engagements," he added.
Background of RTI bill
The RTI bill,which is expected to make information easily accessible by the media and Ghanaians to boost the fight against corruption has been in legislation for well over 17 years now because successive governments have failed to implement it despite several assurances.
Efforts by several advocacy groups to put pressure on the duty bearers to have the bill passed have also not yielded any positive results.
At his last address to Parliament, outgoing President John Mahama begged Parliament to pass the bill at the last minute but his call was ignored.
Although the incumbent New Patriotic Party (NPP) government has promised to pass the bill, it is unclear how soon that would be.
Cabinet yet to hold talks on RTI bill – Hamid
Information Minister, Mustapha Hamid, in January 2018 claimed that Cabinet had not held discussions on the RTI bill.
"Cabinet has proposed to have a special session to look at this particular bill because of the importance that it has before we then pass it and take it to Parliament…The bill is before Cabinet. It will be discussed. If you ask me when, I will not be able to say, but I am sure pretty soon the Cabinet Secretary will get a day when the entire Cabinet will retreat in order to look at this bill properly and then when we have a final consensus on it, we can then take it to Parliament," he added.
–
By: Godwin Akweiteh Allotey/citifmonline.com/Ghana
Follow @AlloteyGodwin