A British nurse has been convicted of trafficking five Nigerian women into Germany to work as prostitutes after subjecting them to "voodoo" rituals.
Josephine Iyamu forced the women to swear oaths to hand over money to her during "juju" ceremonies.
Iyamu, 51, formerly of Bermondsey, was convicted of five counts of arranging or facilitating travel for sexual exploitation at Birmingham Crown Court.
Jurors also found her guilty of perverting the course of justice.
The rituals saw the women forced to eat chicken hearts, drink blood containing worms, and have powder rubbed into cuts, the court heard.
The case is the first in England and Wales in which a British citizen has been prosecuted for sexual trafficking offences committed outside the UK.
Her husband, 60-year-old Efe Ali-Imaghodor, was acquitted of doing acts intending to pervert the course of justice.
Psychological control
Iyamu declared a modest income of around £14,500 in 2016/17 from her work as an NHS agency nurse, the court heard.
But after her arrest last year investigators found she was able to afford to spend thousands on air travel and a large home in Benin City, Nigeria.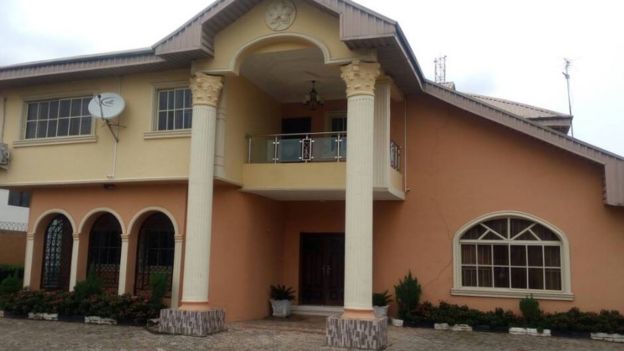 Prosecutor Simon Davis said by performing rituals Iyamu gained psychological control over the women.
The National Crime Agency (NCA) said Iyamu had "enlisted the help of a voodoo priest" to put the women through a "juju" ceremony which was "designed to exert control" over them.
The victims and their families were threatened with serious harm if they broke their oath to Iyamu, according to the NCA.
The court heard Iyamu was "willing to put the women at risk of serious injury and or death as they made their journey from Nigeria to Europe".
They were too afraid to challenge her or fail to pay her back tens of thousands of Euros she charged them to be trafficked into Germany, the court was told.
Opening the case, Mr Davis said: "The debts incurred by the women were enforced through fear.
"Each of the women were put through what is known to some as a voodoo ceremony."
Iyamu, who was born in Liberia, will be sentenced on Wednesday.
–
Source: BBC