Protests in Jordan against tax rises and austerity measures – the biggest demonstrations in years – continued for a third consecutive night.
Police fired tear gas and blocked roads in the capital Amman to stop protesters getting close to the cabinet office.
The protesters say a new tax bill backed by the International Monetary Fund (IMF) will hurt the poor and middle class.
King Abdullah has called for compromise from all sides.
Several thousand protesters chanting anti-government slogans and calling for King Abdullah to dismiss Prime Minister Hani Mulki have been holding vigils near the cabinet office.
There have also been some protests in provincial towns, where police have reportedly used tear gas. In the southern town of Maan protesters burned tyres on highways and there were scuffles with police, Reuters reported.
Jordanians have seen prices rise with salaries failing to keep up.
On Friday King Abdullah intervened to freeze an increase in fuel prices.
But the protesters are angriest about the proposed tax bill, which they fear will further worsen living standards.
The BBC's Arab affairs editor Sebastian Usher says the king is urging a deal that won't overburden ordinary Jordanians while tackling endemic tax evasion.
Mr Mulki has refused to scrap the IMF-backed tax bill, saying it was up to parliament to decide whether to pass it or not.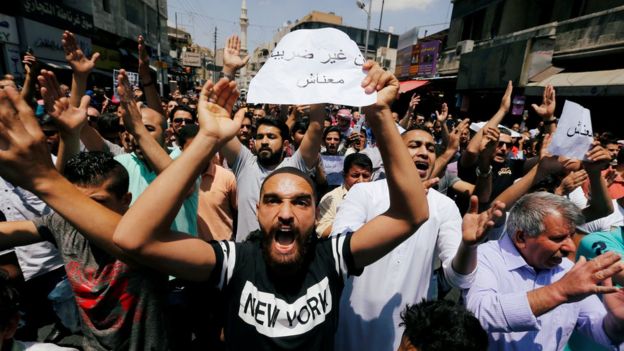 The government says it needs the money to fund public services and says the new tax bill will see higher earners pay more.
Earlier this year sales tax was increased and bread subsidies were scrapped as part of a plan to cut the country's debt.
Mr Mulki said he hoped the reforms needed to get Jordan's economy "back on track" would be complete by mid-2019.
King Abdullah has said that conflict in neighbouring Syria and Iraq has worsened Jordan's financial situation.
–
Source: BBC