The pound fell in the wake of Boris Johnson's resignation from the Cabinet on Monday.
At 1530 sterling was trading at $1.3243, down 0.78 per cent from the $1.3347 level at 1440 when rumours of the Foreign Secretary's departure began circulating.
Against the euro the pound was at €1.1271, down  0.56 per cent over the same period.
The move suggests a view in financial markets that the departure of Mr Johnson makes a "no deal" Brexit more likely.
"Johnson's resignation is a significant event from a market standpoint and something of a shock, marking a pretty remarkable U-turn after seemingly backing the proposals made at Chequers," said David Cheetham, of the online currency trading company XTB.
"It could now be seen to pave the way for more to follow and means that [David] Davis's decision to stand down isn't an isolated event and the chances of a challenge to May's leadership have now increased markedly".
However, some analysts said the resignation could ultimately have a limited impact on the UK currency.
"Unless we see a tangible leadership challenge in the next 24 hours [it's] hard to see the pound massively falling further," said Viraj Patel of ING.
Sterling slumped in February 2016 when Mr Johnson, after a long period of deliberation, announced that he would campaign for Brexit in the referendum.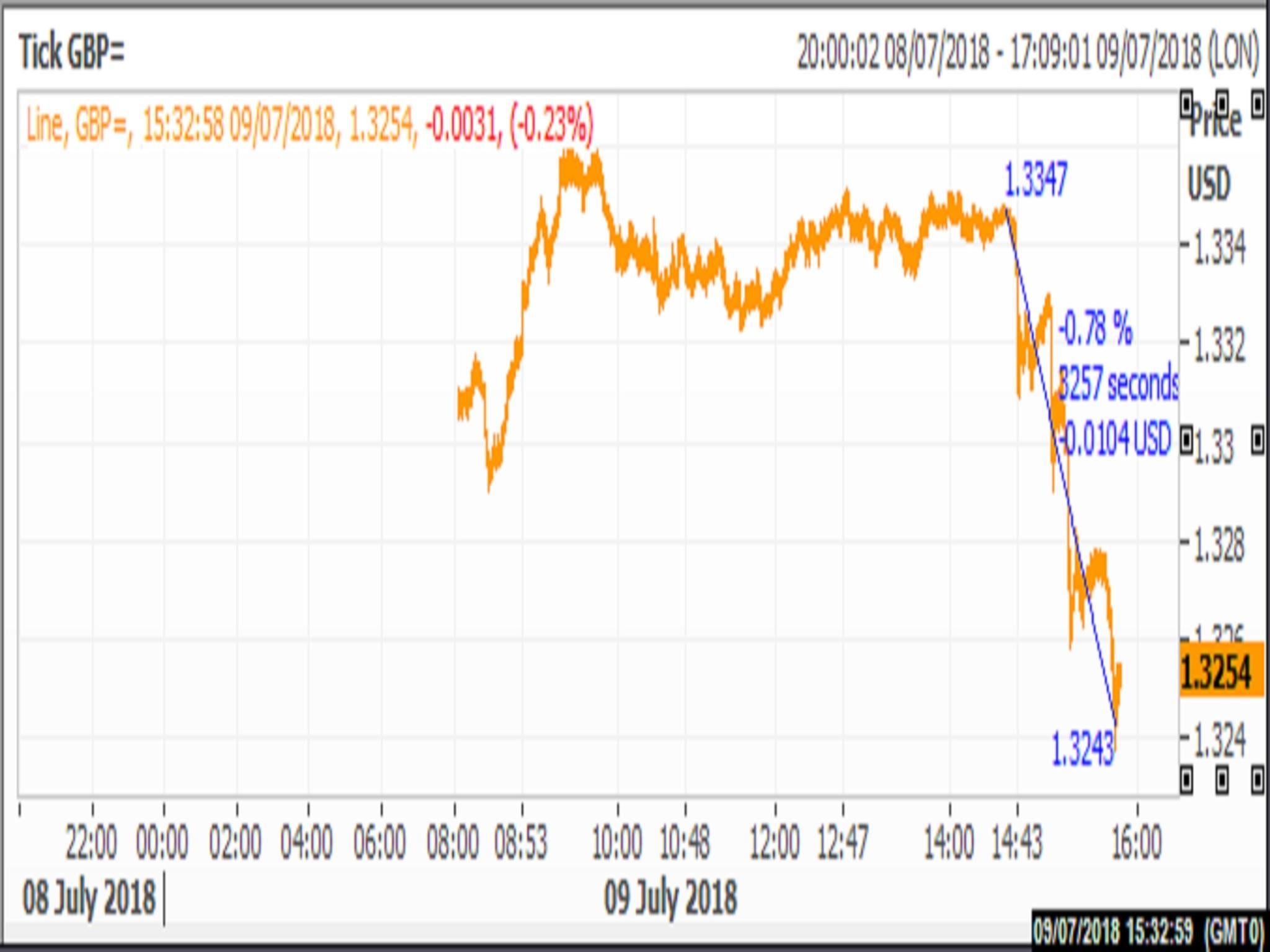 Sterling had taken the overnight resignation of the Brexit Secretary David Davis largely in its stride.
Before this week sterling was trading at a seven-month low, as investors nerves frayed about the possibility of time running out for a viable Brexit deal with the European Union.
Sterling suffered a record one day fall on the night of the 23 June Brexit vote, as traders bet that leaving the EU would inflict long term damage on the UK economy.
The currency has gained 10 per cent from its low of $1.2040 in January 2017, but remains 11 per cent below its level before the vote.
The trade-weighted value of sterling is also down 11 per cent since the referendum.
"Theresa May's position as prime minister is, in my opinion, becoming increasing untenable. The Tory party seems bitterly divided and I expect either a vote of no confidence, or she quits outright herself. Both could lead to another General Election and as a result, we could either see another referendum to the UK public on whether to leave the EU, or if Jeremy Corbyn's Labour party gains power, a likely extreme soft Brexit," said Jordan Hiscott of the trading company Ayondo.
"Technically, if Brexit doesn't happen we could see [the pound] at $1.54. However, it won't happen in a straight line and with two resignations' as large as this, I expect increased volatility surrounding all GBP FX pairs in the very short term."
–
Source: Independent UK