US President Donald Trump has said arming teachers could prevent school shootings like that which left 17 people dead last week in Florida.
A staff member with a gun could end an attack "very quickly", he said.
Mr Trump floated the proposal as emotional survivors of the 14 February massacre implored him to make sure something similar does not occur again.
The Republican president also backed calls for improved background checks on gun buyers.
Other survivors meanwhile lobbied Florida lawmakers on gun control.
"We'll be very strong on background checks, very strong emphasis on the mental health of somebody," Mr Trump told the students from Marjory Stoneman Douglas High School during Wednesday's televised event at the White House.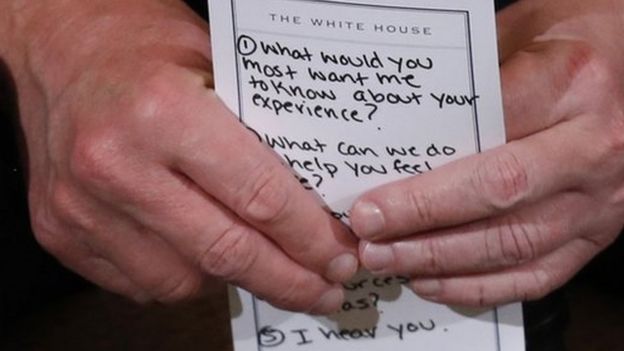 "It's not going to be talk like it's been in the past," he added.
The US president also endorsed a proposal long championed by the National Rifle Association (NRA), a powerful gun lobby group.
He pledged to look "very strongly" at calls for educators to be armed with guns.
"If you had a teacher who was adept at firearms," he said, "they could very well end the attack very quickly."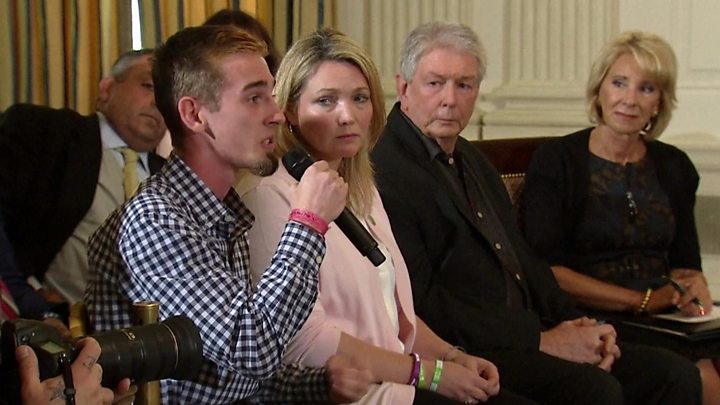 "Where a teacher would have a concealed gun on them," he said, while acknowledging the plan was controversial, "they would go for special training and they would be there, and you would no longer have a gun-free zone.
"A gun-free zone, to a maniac, because they are all cowards, a gun-free zone is, 'let's go in and let's attack.'"
A dozen US states already allow concealed handguns to be carried on college premises, according to the website Armed Campuses. The state of Florida does not.
Mr Trump denied during the 2016 election campaign that he was in favour of guns in classrooms.
'I'm pissed!'
The US president listened to pleas for gun reform on Wednesday from about 40 students, teachers and families in the executive mansion's state dining room.
Some of those at the hour-long event voiced support for Mr Trump's idea of arming teachers.
But Mark Barden – whose son Daniel was killed in the 2012 shooting at Sandy Hook Elementary School in Connecticut – said more guns was not the answer:
"Schoolteachers have more than enough responsibilities right now, than to have to have the awesome responsibility of lethal force to take a life," he said.
"Nobody wants to see a shoot-out in a school."
Andrew Pollack, whose daughter, Meadow, died in last week's attack – the second-deadliest shooting at a US public school – said: "We, as a country, failed our children."
"I'm pissed!" he added.
'Where the bullets go both ways'
Analysis by Anthony Zurcher, BBC North America correspondent
That Donald Trump spoke enthusiastically about arming schoolteachers to protect against armed assailants should not come as much of a surprise. Throughout his presidential campaign he endorsed the idea of an armed citizenry as a defence against attacks.
"Where the bullets go both ways, not just in one direction, you wouldn't have had the kind of carnage that you had," then-candidate Trump said regarding the December 2015 San Bernardino and November 2015 Paris attacks.
The president's comments on licensing guns in schools – a topic on which the public is sharply divided and a majority of the group at the White House on Wednesday seemed resistant to – largely overshadowed an otherwise powerful "listening session".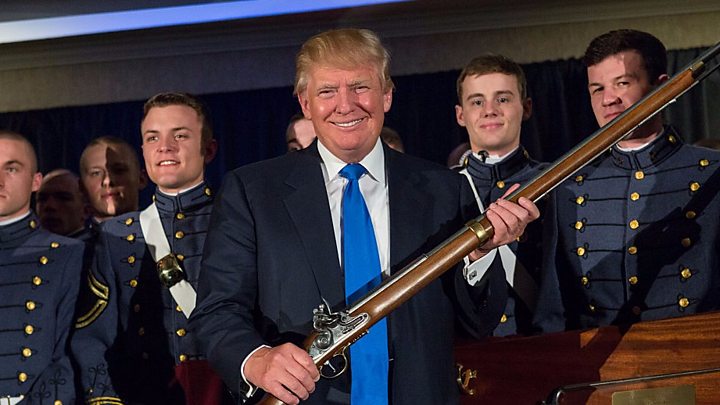 The audience represented a diversity of views, and Mr Trump allowed those touched by gun violence to share their stories.
It was reminiscent of the free-ranging meeting the president had with a bipartisan group of lawmakers on immigration in January. Of course, that public display – where the president pledged to support any legislation backed by Congress – gave way to hardline demands from the White House and threatened vetoes.
This president has pledged action in response to Parkland. And his actions will speak louder than his words.
Hundreds of teenagers from the Washington DC suburbs rallied outside the White House before Mr Trump's meeting.
Meanwhile, survivors of the shooting poured into the Florida state capital to demand lawmakers restrict sales of assault rifles.
"We want gun reform. We want common sense gun laws," said Delaney Tarr in Tallahassee.
It was the first organised protest of the youth-led anti-gun movement that has swept the US since the attack in Parkland, Florida.
Other students in Chicago, Illinois; Pittsburgh, Pennsylvania; and Phoenix, Arizona walked out of classes in solidarity.
Some lawmakers in Florida's state legislature said they would consider raising the minimum age to buy assault rifles – like the one police say was used in last week's massacre – from 18 to 21.
However, the legislators rejected a proposal on Tuesday to even debate banning such weapons.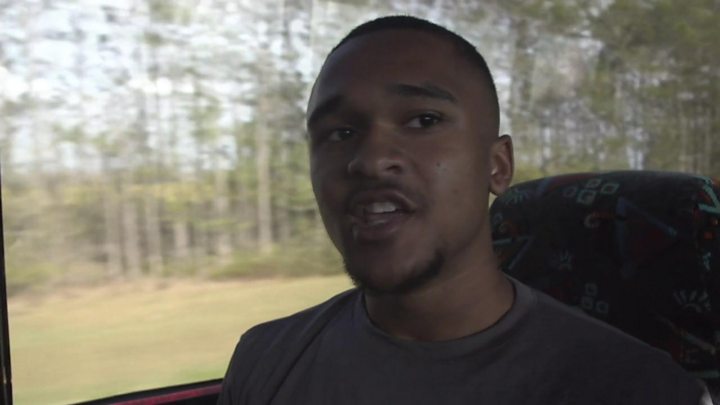 Mr Trump's listening session came a day after he directed his administration to take steps to ban gun "bump stocks".
The accessories – which enable a rifle to shoot hundreds of rounds a minute – were used by a gunman who killed 58 concert-goers in Las Vegas last October.
That was the deadliest attack by a lone gunman in US history.
The NRA – which contributed an estimated $30m (£21m) to help elect Mr Trump- opposes a total ban on bump stocks but supports some regulation of the devices and some changes to background check legislation.
–
Source: BBC